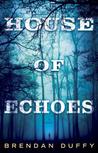 House of Echoes
by
Brendan Duffy
My rating:
4 of 5 stars
I learned about this book on a Book Riot podcast where they were recommending creepy books that had a sense of foreboding. And boy does this meet that requirement! This book got under my skin and totally creeped me out (and intrigued me)! This is a great book to read at this time of year!
The basic story is about a family that moves to a big, old house near the town where his grandmother grew up. They hope to fix this house up and open an inn. But, things don't quite work out as planned and the story goes from there.
There is something going on in this town and in the woods near this home but you don't quite know what it is until the end of the novel and all of the pieces come together. This novel is great reading, completely engrossing! I didn't want to put it down! This isn't horror in a traditional sense ... it's really much more of a suspenseful novel. But, I don't think a horror label is wrong, just that it's not traditional horror.
I definitely recommend this if you're looking for really great suspense that will keep you guessing! It's a really good read!