I'm sorry it's been so quiet here. Life keeps getting in the way. But, I'm going to catch up on some reviews here today and I'll get back to reviewing here on the blog a bit more regularly! Thanks for hanging in there with me!
First and foremost, I have to tell you about an amazing book that I recently read and cannot recommend more highly, particularly given what's going on in America today when it comes to race -
Homegoing
by
Yaa Gyasi
My rating:
5 of 5 stars
Wow. I'm a bit stunned by what a wonderful book this is ... I am amazed at with Yaa Gyasi has created with this novel. Truly amazed. This book is a masterpiece.
The story is rather simple - it's the story of two sisters and what happens to each of their families. One will marry a white man, a British official who lives in the upper part of the Cape Coast Castle. The other sister finds herself in the lower dungeons of the same castle but is sold as a slave and transported to the American South. The story starts in 18th century Ghana and weaves up to the modern era. And she does that in just 300 pages! I was sure something would pay the price for the brevity of telling such a big story in so few pages. But, it doesn't. In fact, I'd argue that its MORE impactful by the very nature of the novel's structure. Although you don't end up getting to go in depth with each subsequent generation, I didn't find myself feeling less connected. I felt she was able to tell a full story of each character in a place and time. I didn't feel like I was missing anything.
The novel explores much ground - civil war, the end of slavery, the great migration, modern civil rights and more! And the writing ... wow. I'm just crazy in love with Gyasi's prose! She is one heck of a writer! I can't quite believe this is a debut novel. I didn't feel any of the usual problems that I expect from a debut.
I cannot wait to see what Yaa Gyasi has for us in the future. This book was intense, raw and thoughtful. It made me think about the legacy of slavery in new ways and opened me up to more of the nuance that helped me see the ripples more effectively. I highly recommend this one. It's just fantastic!
Here are others that I definitely recommend you pick up -
What Lies Between Us
by
Nayomi Munaweera
My rating:
5 of 5 stars
Wow. Wow. Wow.
I was just knocked out by this novel. Such a wonderful surprise as I read it not having any information about it except that a reader that I trust saying that it affected her as much as A Little Life.
And, boy, was she right! This is a book that is utterly engrossing and beautifully rendered. Uhhhh. I didn't want it to end. It overs so much ground - Sri Lankan cultural history (which I knew very little about so this novel opened a whole new world up to me) is a big focus but it's also about motherhood, how we see things as children, the immigrant experience, marriage and love.
I don't want to give much away as I found it so wonderful to ease into this novel without knowing much about what was to come. Just know that it's beautifully written ... emotionally devestating (in that way a great book can be) ... haunting and intimate ... I just can't recommend it more highly.
Nayomi Munaweera's writing is superb, her pacing is SO good, and her storytelling is just fantastic. I can't wait to read her first novel which has been on my TBR since it's release ... it's now moving up the list. I suspect that I'll love it and that I'll continue to keep an eye open for her future work.
Go get this book. You won't regret it!
(By the way, although heartbreaking, I wouldn't say it's particularly graphic or difficult to read. There is sadness and pain but nothing gratuitous or anything. I often preface any A Little Life recommendations with a 'be careful - it can be very graphic and impactful' but I don't think I feel compelled to do that with this novel).
Lily and the Octopus
by
Steven Rowley
My rating:
4 of 5 stars
Wow! If you love animals, particularly dogs, then you'll love this book. As a fairly new dog owner, I found myself completely relating to the story and my heart broken just thinking about the story! Such a lovely book about unconditional love, grief and the place that animals can take in our hearts. I was expecting it to be very cheesy but I was pleasantly surprised at how not-cheesy it really was. It tells a beautiful story of a man and his pup! Highly recommend this one!
(... and it just might make you cry like a baby)
Sleeping Giants
by
Sylvain Neuvel
My rating:
4 of 5 stars
I really enjoyed this one! It was a fun and interesting book! Good storytelling combined with unique ways to tell that story. Left me with just enough questions but not too many. The story raced along, keeping me intrigued the entire time. I found the story and the science within the story to be facinating! I highly recommend this one! It's the first of a series so know that going in ... it'll be some time before we get book 2!
Shelter
by
Jung Yun
My rating:
4 of 5 stars
I kept hearing great things about htis novel and now I know why. It's a really fascinating look into family and home. The book's structure and character development were very well executed. Yun really gives you a detailed undersatnding of the characters and where they've come from. The themes of finding a way to have a relationship with your family despite their flaws was so well done. The way that Yun unfolds the narrative is so well done! At it's heart, it's really about a family and how they come to terms with what they've done to each other.
The themes are so fantastic and come together so fluidly - marriage, racism, domestic violence, crime, immigration and responsibility. It gave me a great deal to think about - particularly as it relates to the importance of finding peace with the past and present. I definitely recommend this novel! It's very though provoking but immensely readable!
Kindred
by
Octavia E. Butler
My rating:
5 of 5 stars
This book has been on my radar for awhile but I just didn't ever feel compelled to pick it up. But, I recently read a friends review of it and decided that it was time to pick it up. And I'm so glad that I did. It's kind of science fiction for people who don't love science fiction. Although there is a time travel component which takes it into the science fiction realm, it's really more of a historical fiction/literary fiction novel.
This book could have been so bad ... but Butler handles it delicately and with grace. The narrative really brings to life what it must be like to wake up in another time and find yourself completely powerless and without everything you know. The idea is truly horrifying. Butler makes antebellum Maryland come alive in all it's pain, suffering and hurt.
This novel gave me so much to think about. I highly recommend it. It's truly fantastic! I now understand why so many praise Octavia Butler's work so highly!
Mr. Splitfoot
by
Samantha Hunt
My rating:
5 of 5 stars
Wow. I just don't think I can capture, in words, just how much I loved this novel. I have never read anything quite like it. I never completely knew what was happening but I could NOT put it down. It's weird and strange and nutty in all the best ways!
The structure of the book - alternating chapters with two different narratives - make the book feel unsettling in some ways. You know they will come together but you have no idea how or when. The world that Hunt creates is mesmerizing and odd and wonderful. I don't typically like not knowing where I'm going when reading but if the writing is good enough, I can go along with the ride. And boy, did I go along with the ride on this one. SO. DAMN. GOOD. Someone described this as a 'fever dream of a book' and I think that is such a great description of this one.
There are some startling and poetic moments in this novel. I think it's probably not for everyone but I highly recommend it. Especially if you enjoy great literary fiction ... this is literary fiction that knocks it out of the park!
When Breath Becomes Air
by
Paul Kalanithi
My rating:
4 of 5 stars
Wow - what a powerful book! Although I don't think I loved it quite as much as others, it really was a fantastic read. If only all doctors cared so much about patients and their experience as Paul did! His story is fascinating and heartbreaking at the same time! His story is so worth reading and thinking about. He was such a wonderful HUMAN ... I can't recommend this one enough. It's a beautiful book!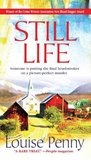 Still Life
by
Louise Penny
My rating:
4 of 5 stars
So glad that I FINALLY read this one! It was so good. I love the characters (especially Armand Gamache)! The mystery was fantastic. These felt in some ways like Tana French's novels - very well written and plotted. I'm not saying all mysteries aren't good but this felt like it was almost a notch above the rest (in the way I think Tana French is). I love the human aspects of this story (and the series, from what I hear). They are very good in terms of character development and Louise Penny makes these men and women come alive on the page. They are real, complicated and compelling. The pacing felt different than a 'typical' mystery novel. It was more meandering and strange in some way. And I loved it! I can't wait to read the rest in the series! Highly recommended!
The Nightingale
by
Kristin Hannah
My rating:
4 of 5 stars
This novel really felt like a departure for Krisin Hannah for some reason. It wasn't fast paced but it also wasn't slow. It felt thorough in the best ways. The quality of this story was very high. The writing was great, the story itself was compelling. It's just fantastic! At times, I get tired of WW2 novels that seem to tell the same stories over and over. I liked that this one gave you multiple perspectives so Hannah was able to really explore a lot of facets of the war. Wonderful characters, excellent storytelling. I can't recommend this one highly enough! So good! Very moving story.
(I'd probably give a 4.5 rating on this one)
Dreamland: The True Tale of America's Opiate Epidemic
by
Sam Quinones
My rating:
5 of 5 stars
This is a fabulous look at opiates in America. It's fascinating, frightening and so compelling. It's one of those books that every American should read in order to understand how we got to where we are today when it comes to opiate use in the US. I had no idea of the fascinating history or how a number of factors came together so effectively to create the epidemic we hear about so often in the news. Amazing storytelling. Some of the best narrative non-fiction that I've read in a long time! I highly recommend this one!
Euphoria
by
Lily King
My rating:
4 of 5 stars
Really interesting book, liked it quite a bit. The writing is exceptional, the story is compelling and heartbreaking. Definitely recommend this one.
The Chronology of Water
by
Lidia Yuknavitch
My rating:
5 of 5 stars
This was such a painful but lovely memoir. Lidia Yuknavitch has a way with words and I found myself mesmerized by this book! So raw and emotional. Beautiful and sorrowful and just everything. Very raw so it's not for everyone but if you can handle it, it's so good.
Here are some of the great lines that might give you a sense of her voice (which is amazing):
"So yes I know how angry, or naive, or self-destructive, or messed up, or even deluded I sound weaving my way through these life stories at times. But beautiful things. Graceful things. Hopeful things can sometimes appear in dark places. Besides, I'm trying to tell you the truth of a woman like me."
"You see it is important to understand how damaged people don't always know how to say yes, or to choose the big thing, even when it is right in front of them. It's a shame we carry. The shame of wanting something good. The shame of not believing we deserve to stand in the same room in the same way as all those we admire. Big red A's on our chests."
"Your life doesn't happen in any kind of order. Events don't have cause and effect relationships the way you wish they did. It's all a series of fragments and repetitions and pattern formations. Language and water have this in common."
"He treated...my scarred as shit past and body as chapters of a book he wanted to hold in his hands and finish."
Don't miss this one ... it made me think about my life, about my kids, about my husband, about my parents ... all in new ways. Read it. You won't regret it.

Our Souls at Night
by
Kent Haruf
My rating:
5 of 5 stars
What a beautiful book! I highly recommend this one for any and all! Such a quiet and meaningful story! Just blew me away!
Okay, that's it for now. If you want to see all of the books I've read so far in 2016, I have a
'read in 2016'
shelf on Goodreads that links to all of my reviews!